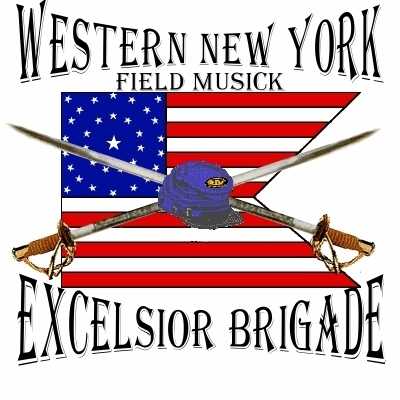 Western New York Field Music
Excelsior Brigade Fifes and Drums Tunes List

We have the lyrics for several tunes of our repertoire.
We welcome additions to our list, if you have the lyrics or a
URL to the lyrics on the net that we haven't found yet, please
drop us a note.

General instructions for drummers level 1 through 5.
1st Level: Army 6/8, Connecticut Halftime (plus fill), Army 2/4 (plus fill); Battle Hymn, Johnny, Garry Owen, Girl, 1812, Old Dan Tucker
2nd Level: Sisters, Sisters fill/ Army 6/8 fill, Hell on a Wabash (mostly because they've picked it up by then), Willie Weaver, Yankee Doodle, Grandfather's, Paddy, Crazy Army, Green Cockade
3rd Level: Duke of York, British Grenadiers, Ed Kellogg's, White Cockade, Frog in the Well, Kingdom Coming, Dixie, Ancient and Honorable Artillery, Monumental 2/4 (plus fill)
4th Level: Connecticut Halftime stick clicks, Willie Weaver fill, Grandfather's fill, Paddy fill, Crazy Army fill, Hell fill, Some Distance from Prussia, Jaybird and Fireman's (plus fill), Old Saybrook, Sailor's Hornpipe, Old Dan Tucker fill
5th Level: Empty Pockets, Bloody Red, Downfall of Paris

General instructions for fifers level 1 through 5.

Level 1: 1812, Battle Hymn, Bonnie Blue Flag, Ed Kellog's, Just Before the Battle Mother, Minstrel Boy, Old Dan Tucker, Old Rosin the Beau, When Johnny Comes Marching Home, Yankee Doodle
Level 2: Frog in the Well, The Girl I Left Behind Me, Sisters Jig, Star Spangled Banner, Stonewall Jackson's Way, Wearing of the Green, Kingdom Coming, Green Cockade, World Turned Upside Down, Yankee Doodle Single Drag, Rogue's March, Duke of York Short Troop, Drunken Sailor
Level 3: Dixie, Rally Round the Flag, British Grenadiers, Jefferson & Liberty, My Love is But a Lassie Yet, New Tatter Jack, Red White and Blue, Wait for the Wagon, Paddy on the Handcar, Gary Owen, Road to Boston, Whup Jamboree, Reveille, Peas Upon a Trencher, Willie Weaver, Some Distance from Prussia
Level 4: Hell on the Wabash, Sailors Hornpipe, Devil's Flute, Downfall, Captain Mac
Specific duty calls for all musicians, level 1 through 5
The Long Roll (To Arms), First Call, Assembly, Adjutant's Call, Three Cheers, Duke Of York (Troop), To The Color
Three Camps, The General, The Parley, Breakfast Call,
The rest of Reveille: Slow Scotch, Austrian, Hessian, Prussian, The Dutch, Quick Scotch

Snare Drum Music (Sheet Music & Mp3)
---

Excelsior Brigade Home Pages
Schedule
Events Pictures
Tune Index sheet music, lyrics